If the sum of all factors of a number ( exclusive itself ) is equal to the number, then the number is said to be perfect. E.g 6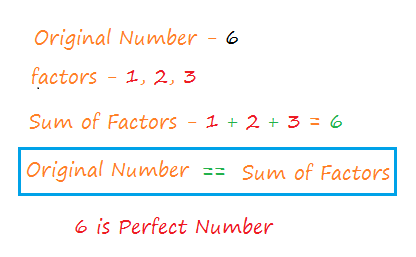 Steps to Check Perfect Number
Take a number as input.
Calculate the sum of all its factors(excluding itself)
Check if the sum of its factors is equal to the input number.
If YES then its a perfect number, else it is not.
Python Program
num

=

int

(

input

(

"Enter a number \n"

)

)

#Calculating the sum of Factors

print

(

"Not a Perfect Number"

)
Output


That's all we need to write in order to check a perfect number in python. If you have any doubt's then comment below.